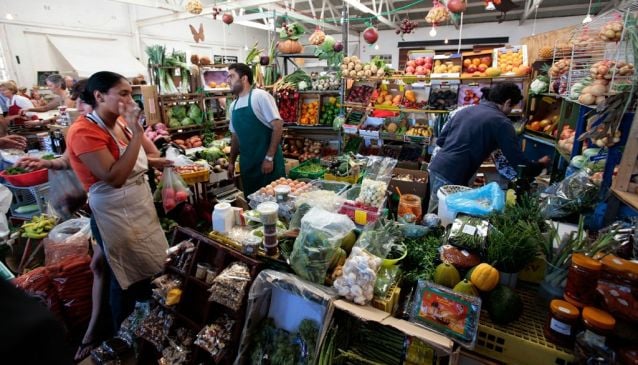 The best of Cape Town's markets
Arts & Culture
Most of the markets are open over the course of the weekend, making them a hive of activity
Cape Town has earned a reputation in recent years as being the market capital of South Africa, featuring a wide range of informal trading zones that offer an impressive range of goods, from fresh produce, to organic foods, curios, souvenirs and antiques. The majority of these markets are open over the course of the weekend, making them a hive of activity for locals and tourists alike looking for a relaxing morning spent wandering amongst high quality goods. Here's our selection of the best Cape Town markets:
GREENMARKET SQUARE
Perhaps the most famous of Cape Town's markets, Greenmarket Square is a buzzing market in the heart of the Cape Town central business district. What started out as a trading post for weary sailors arriving at the nearby harbour has subsequently turned into one-stop shop for African curios. Everything from African masks, trinkets, textiles and ornaments are on offer. Bargaining is the name of the game at Greenmarket Square, so start low and don't buckle under the pressure – stall owners are experienced traders who will use all the tricks in the book to charge as much as possible. Most of the goods on offer specifically target the tourist market and may be somewhat generic, and given the prominence of this market, stall owners are very tourist savvy. Needless to say, there are numerous opportunities to leave Greenmarket Square with memories and curios to remind you of a trip to Cape Town and South Africa.
Location
At the interception of Burg Street, Longmarket and Shortmarket streets.
Opening Times
Monday to Saturday, 09h00 to 16h00
MILNERTON FLEA MARKET
Every Saturday, Sunday, and most public holidays a small stretch of land adjacent to Marine Drive (R27) comes alive, as informal traders and bargain hunters arrive to engage over a range of goods. More than 200 stalls offer a huge range of goods, with the emphasis on second hand products, antiques and typical flea market products. Not all on offer at the Milnerton Flea Market is of high quality, however that means it's a veritable bargain hunters' dream. Everything from old furniture and vintage cameras, through to clothing, household goods and classic vinyls are on offer. Spend a bit of time exploring the vast grounds, and you may leave with something special, usually at an unbeatable price.
Location
Adjacent to Marine Drive (R27). Take the N1 from the Cape Town City Centre, turn left at Exit 4 off-ramp, and the market will appear on the left hand side.
Opening times
Saturdays, Sundays and public holidays (excluding Christmas and Easter), 07h00 to 15h00.
OLD BISCUIT MILL
The Old Biscuit Mill is the food market that started the trend in Cape Town, and since then many others have sprung up to attempt to emulate or replicate the high standard. This small section of an actual biscuit mill comes alive each Saturday, as the city's trendiest locals and excited visitors descend to get their hands on a wide range of delectable goods. The focus is on good, wholesome food, and a variety of decadent treats. Fresh breads, pastries, cheeses, smoothies, coffees and an innumerable number of sandwiches, cooked breakfast and lunch options are available at the dozens of stalls, and while no longer the bargain hunter's dream that it used to be, it still represents the highest quality food on offer. A morning at the Old Biscuit Mill is a truly unique Capetonian experience, and is the best way to spend a Saturday morning in the Mother City while planning the remainder of your day.
Location
373-375 Albert Road, Woodstock, Cape Town
Opening Times
Saturdays 09h00 to 14h00
V&A MARKET ON THE WHARF
While hardly original in its make up, layout and offerings, this market offers a convenient location and a wide range of products to please even the most demanding foodies. The market is located on the V&A Waterfront precinct, making access quick and easy, and it's open throughout the week. And while the Biscuit Mill may well have paved the way for the Market on the Wharf, the daily operating hours make this convenient for those on a tight budget. Equally, it's an ideal spot to visit for a quick lunch break, if you're looking for a more authentic experience than those offered in the heart of the V&A Waterfront shopping precincts. The focus at the market is on food and fresh produce, and with free WIFI located in the building, it makes for an unusual but engaging working lunch environment.
Location
V&A Waterfront
Opening Times
Mondays to Sundays, 09h30 to 18h00
CITY BOWL MARKET
In recent years the City Bowl Market has grown into a crowd favourite, particularly for those looking for a more low-key, mid-week option. The market is opening on Thursday evenings and Saturday mornings, and while it offers a range of primarily food-related products, it offers a more laid back, and often quieter, experience than it's competitors across town. The market is also indoors, making it an all-weather experience even during Cape Town's notorious winters. Food items are often prepared and sold by the owners themselves, making this an authentic experience, and over the years a high standard has defined this conveniently located market. It's a great option if you're looking for a market hangout during the week, or a change from your usual Biscuit Mill adventures.
Location
14 Hope Street,
Gardens,
Cape Town
Opening Times
Thursdays 16h30 – 20h30
Saturdays 09h00 – 14h00.
Written by:
Oliver Ahrens
PUBLISHED: Jun 9th 2017